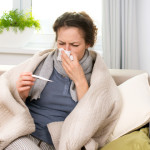 Does this sound familiar? You get ill every time you get stressed. It could be a migraine, cold sores, it could be colds, stomach upsets or fungal infections. If this is you, it doesn't matter what the illness is, it is draining and predictable.
Modern-day life. Ancient body response.
Here's what happens. Anxieties, worries about work, feeling over-stretched, money problems or just the way your phone never stops ringing, these are all aspects of modern-day living, but they get to you. When your brain thinks you are under threat your body releases adrenalin into the blood stream. It's a natural response which triggers a raise in blood sugar levels and triglycerides (fats) which are meant to help you when you have to take action. Your ancestors might have been fighting for their lives or running away. Today, you usually can't physically run away from something stressful and it's just as rare that you can stop or avoid the problem. When we can't physically remove ourselves from stressful things we lie awake playing them over and over which causes more adrenalin to be released. Classic vicious circle. You have all the mental worry and no physical action to take to burn off the adrenalin.
You shouldn't be surprised that you get ill.
If you like this, please share it